Starting June, 2016, the German-based Leica Camera AG company has been offering on the international markets an extremely interesting, well-priced digiscoping dedicated kit that transforms wildlife photography into an incomparable and shareable experience. 
Combining high technology and state-of-the-art optics, the kit will allow photograhers to capture unique moments, well-detailed close-ups, and breath-taking vistas.
The Leica digiscoping kit, offered at an unbeatable discount price, includes a reliable Leica APO-Televid spotting scope; a Leica T digital camera; a Leica Vario 25–50× WW ASPH wide-angle; a specific 35mm digiscoping objective; and a Leica T2 adapter for the camera itself.
The Leica digiscoping kit, up close and personal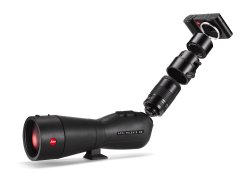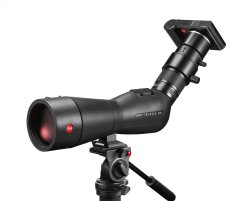 The Leica APO-Televid spotting scope offers exceptionally high levels of detail thanks to the wide-angle, adjustable 25x/50x magnified zoom. Available in a 65mm (APO-Televid 65) and an 85mm version (APO-Televid 85), the Leica APO-Televid offers an extremely wide field of view despite the compact design.

The quick, accurate double focus system provides precise adjustment, allowing users to experiment photography and digiscoping at extreme distances.
The Leica T digital camera comes with a digiscoping mode, offered exclusively by Leica cameras, allowing perfect combination of the Leica T camera with all Leica APO-Televid models.

Its powerful 16,5 million pixels APS-C sensor allows the Leica T to return images with an unmistakable level of detail and colors, and to shoot full-HD videos. 
An integrated WiFi module also allows the Leica T camera to send images and videos directly to a Smartphone, a Tablet PC or another portable device, and thanks to a dedicated application, the user can share his or her photos and videos on any social network platform.
«Our aim is to bring the fascinating world of digiscoping to as many customers as possible», saus Nanette Roland, Leica Sport Optics' product manager. 
«The perfect interplay of the Leica APO-Televid, the Leica T and digiscoping mode makes this all wonderfully easy for beginners and experienced users alike. At the same time, our customers enjoy the benefits of the excellent colour fidelity, sharpness and contrast of the Leica APO-Televid models in combination with the exceptional picture quality, the APS-C sensor format and the touchscreen control concept of the Leica T».
Leica is the world's only optics company to offer an integrated premium-quality digiscoping kit as a package
The manufacturer's suggested retail price for Leica's digiscoping kits using an APO-Televid 65 spotting scope ranges around €3,500.00 in Europe; for the APO-Televid 85 kit, MSRP goes up to €4,200.00. The price is still incredibly convenient, allowing buyers to save more than 1200 Euros over the purchase of all kit elements separately.

The Leica digiscoping kit has been available since June 2016 through all Leica retailers.