For almost 140 years, Winchester Ammunition offers on the market truly innovative in terms of ballistics and reliability, but with the Power Max Bonded were achieved even more advanced levels. These munitions are in fact the result of a project that rests its foundation on three technologies that work together as an integrated system: smelting lead core and copper alloy jacket, protected hollow point and a shirt slip with variable thickness.
The Power Max Bonded 30.06, thanks to their ability to fusion, to the core and the jacket are able to expand without generating cracks or separations. A very high weight retention translates into a maximum energy which results in a fast stopping power and a particularly deep penetration. Moreover, despite the ball increases its diameter after expansion up to two times, does not occur no fragmentation ensuring a cavity without substantial permanent that the game is ruined.
The protected hollow point so conceived ensures high ballistic performance, that is flat trajectory and a more effective conservation of speed over long distances.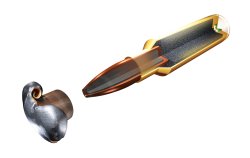 The protected hollow point ensures rapid and optimal expansion at all distance and speed of impact and its design also allows you to keep in perfect condition the ends of the bullet during the loading and unloading of the rifle, a key element to achieve precision.
The molten core of the shirt has been achieved through the exclusive process of Winchester, based on the application of a "flow" and a heat treatment firm permanently lead core to the jacket of copper alloy (95 &) and zinc ( 5%). This ensures that the core and jacket not expand without causing breakage, to allow better retention of the mass and a deep penetration, while maintaining a remarkable stopping power typical of soft-tipped balls.
The technicians of Winchester have in fact designed the Power Max Bonded ammunition drawing the thickness of very thin shirt in the front to generate a significant expansion with any impact velocity and type of game, and more often in the back of the ball to control the process expansion and to ensure high mass retention. The design of the shirt so involved to reinforce the fusion technology.
In conclusion, the Winchester Power Max Bonded ammunition enclose three technologies (ball protected hollow point, the molten core of the shirt and controlled expansion), with which you get only one result: efficiency.
The Winchester Power Max Bonded is available in the following calibers: 223 Rem, 243 Win, 270 Win, 270WSM, 7mm Remington Mag, 300 Win Mag, 300 WSM (150 and 180 gr), 30.06 Spriengfield (150 and 180 gr) , 308 Winchester and 338 WM.