RWS - the premium brand for hunting ammunition from the RUAG Group – presented a number of new products at the 2016 IWA. Read on to find out more.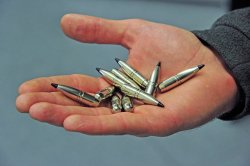 New product 1: RWS Speed Tip Professional .338 Lapua Magnum
RWS has now developed a suitable hunting bullet for this high-velocity long-range caliber that reliably handles distances from close range out to over 400 meters as well as different categories of game. In doing so, RWS is following a trend we have observed both in firearms (Blaser R8 in .338 LM) and special long-range telescopic sights, like the ZEISS Victory V8. 
The Speed Tip is a technical innovation from RWS that uses a special tip designed to produce a powerful shock/stopping effect, thereby significantly reducing game flight. This is of enormous advantage to hunters, especially at long range. 
The new streamlined design of the RWS Speed Tip terminates in a newly developed bullet tip that reduces air resistance, resulting in a much longer trajectory. The shape of this new bullet provides for accurate shots as well as maximum knock-down effect, especially at long range. The rear of the bullet incorporates a so-called V-Tail, which also acts to improve accuracy and aerodynamic stability over longer distances.
This video has been hidden because of an external service (YouTube) that could potentially collect personal data.Allow video services for the duration of the visitAllow video servicesStop allowing video services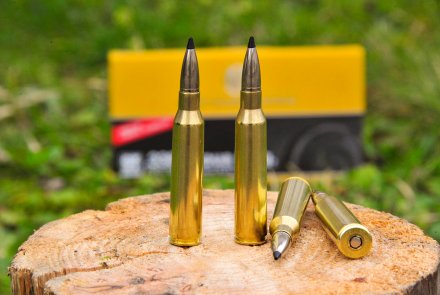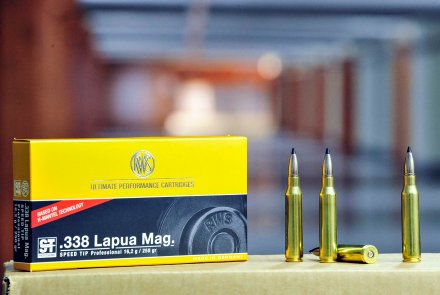 A few words about the structure of the bullet: The RWS Speed Tip has a twin-core lead body based on the proven H-jacket principle. That means it has a somewhat softer, rapidly responding front core along with a harder tail core that produces greater penetrating power. In addition, the nickel-plated mild steel jacket lends the bullet's expanding segment good form stability and assures reliable exiting with a good blood trail in heavier game. Another advantage of this hollow point bullet design is the rapid response in the body of the game, which, according to the manufacturer, is achieved by the bullet ogive's highly reactive jacket.  The RWS Speed Tip has a nickel-plated surface.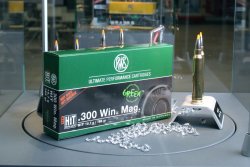 New product 2: Five new calibers of lead-free HIT ammunition
The RWS HIT debuted at the 2015 IWA. It is a mass-stabile, lead-free deformation bullet that produces little damage to the game. Despite its quick response, the mushrooming segment remains completely mass-stable. 
This guarantees outstanding penetration and reliable exiting even at high impact velocities and/or against greater target resistances such as large bones. The bullet's properties come fully to bear when used on larger game. The manufacturer presented the long awaited 8 and 9 caliber versions at the 2016 IWA, which are now available for purchase in the following calibers: 8x57IS, 8x57IRS, 8x68S, 9.3x62 and 9.3x74 R.
Click here to see a comprehensive test of the RWS HIT by all4shooters.com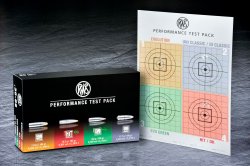 New product 3: The RWS Performance Test Pack
Although the Performance Test-Pack has been available in multiple markets for several months, RWS considers it so significant that it was given a prominent place at their stand during the 2016 IWA. It contains four different types of rifle cartridges for each caliber, each with five rounds. 
This gives the hunter the opportunity to find the ammunition best suited to his gun by shooting-in on each of the four target segments. Here at a glance are all the available calibers, together with the respective bullet types: 
.308 Win. 10.7g HIT / 11.7g UNI Classic / 11.9g EVO / 8.8g EVO Green
.30-06 10.7g HIT / 11.7g UNI Classic / 11.9g EVO / 8.8g EVO Green
.300 Win. Mag.: 10.7g HIT / 11.7g UNI Classic / 11.9g EVO / 8.8g EVO Green
8x57 IS: 11.7g DK / 12.8g ID Classic / 13.0g EVO / 9.0g EVO Green
9.3 x 62: 14.6g DK / 19.0g UNI Classic / 18.8g EVO / 11.9g EVO Green  
This video has been hidden because of an external service (YouTube) that could potentially collect personal data.Allow video services for the duration of the visitAllow video servicesStop allowing video services