One of the main and most evident signs of evolution in contemporary hunting rifles is the threaded muzzle and the progressive reduction in barrel length. These two details are intimately linked and have the same reason for being, i.e. the increasing popularity of silencers, or sound suppressors, even among hunters. If some countries the use of silencers is absolutely forbidden by law, but in Germany, in the Scandinavian countries and the United Kingdom the use of silencers for hunting is allowed, if not actually encouraged. Therefore, the threaded muzzle becomes indispensable to mount a silencer to the rifle, while a shorter barrel avoids that by adding that accessory the gun becomes unwieldy.
Chasing game in the thick of the woods with a 27.5"/70 cm barrel, to which you must add at least 8"/20 cm of silencer is certainly an undesirable option, so rifles with a barrel length of 20"/50 cm or less are welcome. Those who fear that a too short barrel may prevent the bullet from reaching a sufficient exit velocity can rest assured: on the market there are already loads in different calibers designed specifically to offer high performance even in short barrels, such as the RWS Short Rifle ammo. 
Blaser has gone one step further and developed a new cartridge that has been optimized from the outset for use in short barrels. The new cartridge is named 8.5x55.
8,5x55 Blaser, a cartridge born for short barrels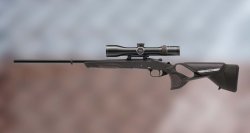 The 8.5x55 Blaser cartridge has been created in such a way that it can offer the best in ballistic terms even when fired in 20"/50 cm long barrels. As expressed by its commercial denomination, the bullet diameter is 8.5 mm, with a case 55 mm long. Blaser currently offers four different loads, with bullet weights ranging from 138.9 to 230 grains, corresponding to 9 and 14.9 grams respectively. This makes the Blaser 8.5x55 a cartridge with an incredibly wide range of use, from medium-sized ungulates to moose or large antelopes hunting.
Let's take a look at some data: the cartridge with a 160-grain (10.4 g) lead-free Barnes TTSX bullet with a ballistic coefficient of 0.342 it has an exit velocity of 940 m/s for an initial energy of 4597 J. At a distance of 100 meters, velocity is 940 m/s. At 100 meters velocity is 845 m/s for an energy of 3715 j. Loaded with a 138.9-grain (9.0 g) SAX KJG copper monolithic bullet it leaves the muzzle at a velocity of 1030 m/s with a muzzle energy of 4775 joules. At 100 meters velocity is 917 m/s for an energy of 3781 joules. The version with a 180-grain (11.7 gram) Nosler Accubond bullet with a CB of 0.372 has an initial velocity of 910 m/sec and a muzzle energy of 4830 joules. At 100 meters the values are 826 m/s and 3978j respectively. Finally, the heaviest load, with a  230-grain (14.9 g) Norma Oryx bullet and CB of 0.370 leaves the barrel at a velocity of 820 m/s for an initial energy of 5012 j. At the distance of 100 velocity is 741 m/s for an energy of 4089 j. In all loads, the 8.5x55 Blaser can be appreciated for its particularly flat trajectory.
The K95 rifle in 8.5x55 Blaser 
Until now, the 8.5x55 Blaser cartridge had been available in the R8 bolt-action rifle, but recently the K95 single shot break-action rifle has also been made available in the new caliber. The Blaser K95 is a concentrate of technology and safety that revolves around the tilting block and the trigger borrowed from the R8 model. The firing pin is manually cocked, so that the gun is inert and safe until the moment you want to fire. The firing pin is cocked by pushing forward a slide and is automatically decocked by acting on the cocking or opening lever. The Carbon version we see in the picture is distinguished by the widely adjustable carbon fiber stock, also available with leather-covered contact areas (Leather model).  The Blaser K95 is available with a barrel length that, depending on the caliber, can be 50, 60, 65 or 70 centimeters. The 8.5x55 caliber version is offered in the shortest barrel length option. The threaded muzzle allows the mounting of a silencer or, as an option, the proprietary Dual Brake which, depending on the caliber, promises a felt recoil reduction of 35 to 50%. In the Ultimate version the K95 Blaser weighs only 5.29 lb/2.4 kilograms and is certainly a handy and fast rifle to cock and aim. We look forward to field testing this new rifle/cartridge combination. Stay tuned!