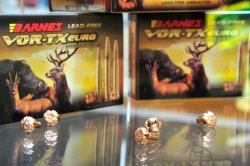 Barnes Bullets – a Remington Outdoor Company brand – officially launched its new VOR-TX EURO line of hunting-oriented load at the 2016 edition of the IWA expo in Nuremberg as a high-performance alternative for the discriminating hunters in the European market.
The Barnes VOR-TX EURO rounds are precision loaded with the venerable Barnes all-copper, lead-free bullets and conforms to CIP pressure standards. This ensures safe operation and maximum ballistic potential, while offering European hunters the best accuracy and terminal performance, surpassing lead-core bullets on both thin-skinned and heavy game.
The Barnes VOR-TX EURO line will initially include nine loads in five calibers, all featuring Barnes' own TTSX balls: a 250-grains 9.3x62mm load and a 140-grains 7x64 Brenneke; a 160-grains 8x57 JS load; three alternatives for the venerable .30-06 Springfield – 150, 168 or 180 grains; and three more for the classic .308 Winchester, those being 130, 150 or 168 grains.