Puma XP hatchet –The compact packable hatchet
The new Puma XP tool is called a packable hatchet. It is a compact hatchet aimed at outdoor enthusiasts. The olive-green handle with its distinctive finger grooves and black rubber coating ensures a particularly firm grip when grasping the hatchet.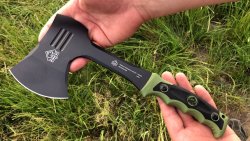 A matching nylon sheath is included, so that the axe can be carried safely. The hatchet overall length is 12"/305 mm with a blade length of 3.54"/90 mm (thickness: 0.19"/5 mm). The steel used is 440 with a hardness of 55-57 HRC, at a weight of 16.72 oz/474 grams. The Puma XP packable hatchet can currently be purchased for 45 euros and you will save almost 10% until the end of 2020.

Puma XP Forever Survival knife – The practical utility knife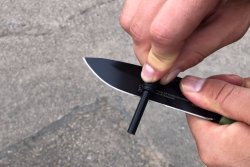 The Puma XP Forever Survival knife with fire starter is aimed primarily at outdoor enthusiasts and its appearance alone clearly distinguishes it from the classic hunting knives from Puma. The blade is made of 440C steel (55-57 HRC) and features a hollow grind. As with the Puma packable hatchet, the olive green handle has pronounced finger grooves and, together with the black rubber coating, provides a particularly firm grip when gripping the knife.
A fire starter is included. Sparks can be generated by scraping the blade vigorously over the fire starter. Both the blade and the fire starter can be easily stored in the matching nylon sheath. The blade length is 4.8"/122 mm (thickness: 0.19"/5 mm) with an overall length of 9.84"/250 mm. The weight of the knife is 7.86 oz/223 g. The knife comes with a black nylon sheath. Until the end of 2020, you can still buy the Puma XP forever survival knife at the special price of 49.95 euros and save over 27%.
---
Further information about Puma's XP Forever Survival knife and packable hatchet can be found on the Puma website.