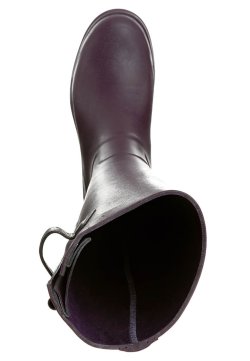 The French Aigle group (www.aigle.com), whose Motto is "For the reintroduction of man into nature", pays tribute to their 150 year-old heritage in its Fall/Winter 2011 collection by presenting truly French-inspired style in their latest boots line. Gaining inspiration from outdoor activities like sailing and horseback riding, the collection is a mixture of military vintage looks with a touch of nature. Based on the style and versatility of a masculine wardrobe, AIGLE creates a stylish, comfortable and natural boyfriend look for women. Being the first "Boyfriend" boots by AIGLE, the Aiglentine is the Wellington-style boot that every hunter lady or outdoorswoman will not want to be without this season.
Developed with one angle on fashion trends and the other on the rugged authenticity of AIGLE's classic mens boots, the Aiglentine "Boyfriend" is a beautiful combination of both worlds. The Aiglentine "Boyfrield" combines the personality of AIGLE's "Trophy" men's boots, a sole inspired by the company's "Bison" garden boot and the feminine shape of the "Benyl" hunting style. By adding a functional and sexy leg-strap alongside a palette of vibrant natural colours, the Aiglentine "Boyfriend" is a boot designed for the modern woman.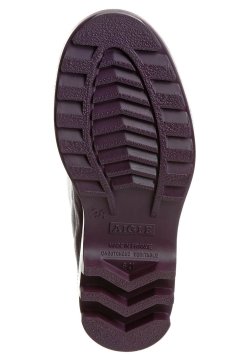 Borrowing from the design ingredients of AIGLE's mens boot styles, the Aiglentine "Boyfriend" boot gives women a level of unprecedented comfort and are designed for the freedom of movement. Ladies, you can forget about torturing your feet in the spirit of fashion: the Aiglentine "Boyfriend" boot provides the comfort of a sneaker, while ticking all the trendy boxes at the same time. An essential wardrobe classic, the Aiglentine "Boyfriend " boot is as at home in the city as it is in the countryside. The slim proportions and feminine silhouette mean that the Aiglentine "Boyfriend" looks as great when worn with a cropped denim mini-skirt as it does with a pair of boyfriend jeans. In fact, the Aiglentine's only limitations are in the imaginations of the women who wear it. For a dose of comfort in contemporary footwear, the Aiglentine "Boyfriend" is the most fashionable choice.
Authentic in its style, the Aiglentine "Boyfriend" is also authentic in its design. The boots are handmade in France by master tradesmen who have been practicing this unique tradition since 1853. From preparation to completion, each boot is carefully assembled by hand to guarantee waterproofing, flexibility, ruggedness and comfort. Two hundred tradesmen work in AIGLE's shops, requiring two years to master the precise motions of assembling the boots. Sixty steps are needed to make a pair of Aiglentine "Boyfriend" boots, and their excellent quality is guaranteed to take every lady on thousands of steps from appointments to evenings out, from shopping to meetings.
---
For further information

Aigle International
17 rue Saint Denis
92513 Boulogne CEDEX

France
Tel.: +33-(0)1-4131-7400