Archoil may not be a recognizable name to those more comfortable with the shooting world, but is a popular brand for motor enthusiasts; Archoil is, in fact, a recent development of Evergreen America, a US based company, with partner PowerEnhancer in the UK, expanding years of experiences in the lubrication/fuel additive under one brand name.
The company has introduced a series of nanoceramic technology based lubricating oils and dry film lubricants for firearms use, and sent us samples to try.
We have tested three Archoil lubricating products; the AR4200 and AR4400 Nanoceramic CLP (Cleaner, lubricant and preservative) and LP (lubricant and preservative) respectively, and the AR2400 multipurpose dry film nanolubricant.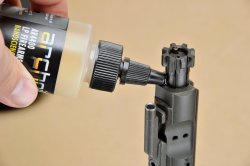 The AR2400 is nano tungsten disulfide (WS2) based; WS2 is one of the most slippery substances in the world, and Archoil claims that It offers far superior performance to Molybdenum, graphite, Teflon or boric acid in every application. This dry film lubricant works by penetrating micropores of the material and bonding with it; the lubricating, micro thin film features an ultra-low coefficient of friction (0.03 dynamic; 0.07 static) that prevents sticking and wear.
Both AR4200 and AR4400 also work in a similar way, forming a dry hard surface film on metal alloy; while AR4200 uses WS2 and is a cleaner, lubricant and corrosion protector, AR4400 lubricates and protects against corrosion and is based upon hexagonal boron nitride (hBN) for its low coefficient of friction at 0.15 to 0.70 and its superior characteristics bonding to metal. Archoil claims it to be a superior lubricant, offering excellent protection against corrosion.
Testing the products, we confirmed that AR4200 has a very light, non offending plasticly smell and that  AR4400 is almost odorless; the AR2400 product on the other hand does smell of alcohol, which is much better than many aromatic (and higly toxic) solvent normally used in firearms oil. Archoil also claims its products to be Biodegradable.
We have employed the AR4200 CLP for a couple months now, choosing to use a semiauto M4 as a testbed; after an ultrasound bath and a complete scrub with a solvent and degreaser, to remove every trace of previously used lubes, we've cleaned and lubricated the gun only with Archoil products since.
We have used AR4400 for most non heat exposed parts, such as trigger, controls, upper receiver guiding surfaces, buffer tube and mainspring lubrication; AR4200 for barrel cleaning and conditioning, and AR2400 for bolt lubrication, including the gas rings (the product must be shaken well).
We've shot about 1600 rounds thru the gun, mostly in a three day gun course; we found the Archoil products to be quite effective, and more or less on a par with the "AR15 must run constantly wet with non volatile oils" doctrine.
Using good FMJ ammo, we have not seen a single FTE or jam, and manually working the bolt even at the end of the day (after about 500 rounds) did not give us an impression of friction or overly "sandy" BCG travel.
Granted, we have not operated in a constantly dusty environment, and we've taken good care of our gun at the end of each day; nonetheless, we've had a good impression of Archoil performance, especially considering the quite affordable street price we've found online for these products.
Although we have failed to see a definite improvement in cleaning the gun, as carbon buildup and crud removal seemed to take exactly as much as with the use of our reference CLP/lubricating products at the end of the shooting day, we would choose Archoil in an instant for the comfort of using mostly non-toxic and basically odorless chemicals, alone. 
---
Find out more
ARCHOIL
69 North Turnpike Road
Wallingford, CT (USA)