After the Finnish manufacturer provided excellent brass for reloaders some time ago, now they are also offering factory ammunition, showcased for the first time at SHOT Show 2019.

Lapua new ammunition for long range shooting and hunting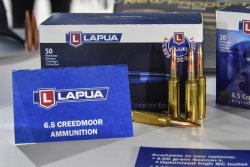 The 123 gr/8 g OTM Scenar load will appeal to long range shooters or to the popular US Precision Rifle Series. But also 300 meter shooters could certainly benefit from this low-recoil cartridge.
The second load is equipped with a 140 gr/9.1 g Naturalis bullet. The lead-free deforming bullet is intended for hunting and thus meets the modern requirements for a "lead-free hunting". Both loads will be available from the first quarter of this year. 
What makes the 6.5 Creedmoor interesting are its good long-range qualities with low recoil and economical powder use. In addition, the cartridge can be fired in short actions and requires no overlong barrels to properly develop its performance potential. In the US, some guns and ammo manufacturers have jumped on this promising cartridge and also in Europe there are more and more.