SIG SAUER Mastershop is right on hand, whether you want to buy a new weapon or tune, customize or upgrade your current SIG SAUER. The "house-tuner and gunsmith" provides excellent quality and that of course with the SIG SAUER Guarantee. Collaborate with the SIG SAUER Mastershop specialists to design your very own 'one of a kind'. Feel free to let your wishes flow. Regardless whether it is long or short-barreled, for sport or defense.
SIG SAUER Mastershop Prestige - what can you expect:
The symbiosis of artistic creativity, perfectly honed craftsmanship and passion made by SIG SAUER produces unique weapons and collector's items.
The SIG SAUER Mastershop designs and builds unique works of art, collector's items. The sophisticated craftsman's touch at Mastershop Prestige uses only the finest materials and surfaces to create firearms in a distinctive design.
Over and again the SIG SAUER Mastershop presents outstanding, unique pieces and thematic series. all4shooters.com is eager to see which theme SIG SAUER Mastershop has selected for 2014, in particular for international fairs such as SHOT Show. 

Mastershop Prestige is always a first port of call if you are looking to own a personal Mastershop Prestige weapon -- designed to your individual wishes and ideas. It goes without saying that potential buyers will need a well-padded wallet. Here you can find an overview of the current designs: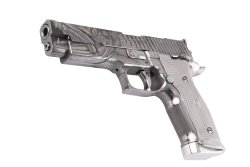 Design: Barracuda
The terror of tropical waters: the dreaded Barracuda was the force behind this weapon's design. Engraved to resemble the predator fish, this pistol embodies aggressiveness.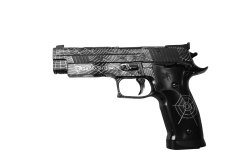 Design: Black Widow
Designed in the color of its eponym, this black burnished pistol comes with an elaborately inlaid spider's web of silver wire. The black widow is found up top on the slide, giving the pistol a biting look.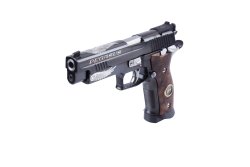 Design: Pegasus
The winged Pegasus is found immortalized on a SIG SAUER X-Five: burnished in black, with the name plate and wings in engraved sterling silver, this weapon conjures up images of the offspring of Poseidon and Medusa.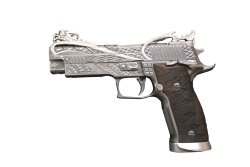 Design: Samurai
Designed to resemble the plated armor of a Samurai warrior, this weapon channels the spirit of the ancient Japanese warrior-caste. The handcrafted dragon's head of solid silver on the slide reflects the craftsmanship of the ancient Japanese sword smiths.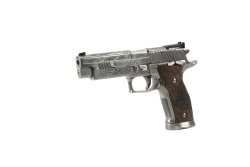 Design: Scorpion
Small but dangerous: the X-Five Scorpion displays various motifs of the venomous desert scorpion.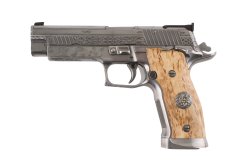 Design: Siegfried
Burgundian ornaments decorate this weapon, depicting dragon motifs and key scenes from the legend of Siegfried in the Nibelung Saga. The grip plates are made of Nordic beech wood with handcrafted silver brooches displaying a dragon motif.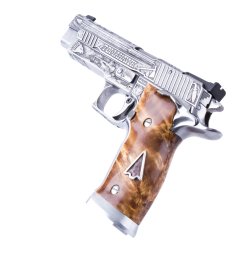 Design: Tomahawk
A traditional battle axe and the face of a Native American on the upper side of the slide along with several symbols and weapons decorate this magnificent X-Five. Grip plates made of North American maple wood with engraved flintstone arrow heads round off this unique work of art.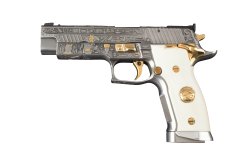 Design: Tutankhamen
Scarab, royal scepter and scourge as well as the famous death mask made of 24 carat gold adorn the top of this pistol's slide. There are also images of Ikhnaton, Nefertiti and the gods Osiris, Isis, Horus and Anubis on this masterpiece. The grip plates were made of ivory, depicting the "eye of Horus".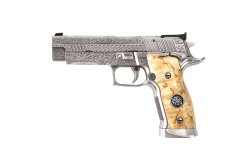 Design: Tyr
Another example in the SIG Sauer Nordic gods' series: Tyr, the god of war and victory. Viking motifs and Nordic ornaments join with birch wood grip plates and handcrafted silver inlay bearing Germanic symbols to characterize this magnificent collector's item.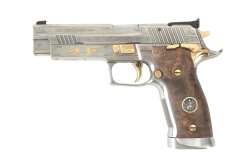 Design: Zeus
Firmly rooted in the ornamentation of ancient Greece, this weapon depicts Zeus, father of the gods, on his throne. The vaunted fist of Zeus graces the grip pieces, depicting lightning of inlaid gold. The walnut root grip plates show 2300 year-old, original drachmas from ancient Greece with the face of Zeus.