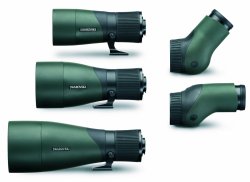 SWAROVSKI OPTIK KG., the Austrian-based leader company in high-technology optical systems, announces for 2012 a small revolution in the field with the introduction of a brand new generation of spotting scopes. These new ATX/STX scopes have a modular, ergonomic design, and allow you to see the world through completely new eyes. And this, mind, not just thanks to the Swarovski's signature Swarovision advanced optical system, a combination of a high-technology field flattener and fluoride-containing HD lenses that minimise interfering colour fringing to enable maximum colour fidelity and lead to a significant improvement in resolution and contrast, resulting in a level of image definition never seen before in a spotting scope. No: flexibility and ergonomics are paramount on the ATX/STX system, to make it the "One size fits all" tool for birdwatchers and digiscopers, hunters and clong-range shooting competition judges, for static and dynamic observation. Sporting wide-angle lenses, the Swarovski ATX/STX scope is based on a single idea: let the user configure it the way he/she wants it, much like a Lego, simply by mating the desider eyepiece to the desider objective. Two eyepiece modules (angled or straight) are available for three objectives with diameters of 65, 85 and 95 mm.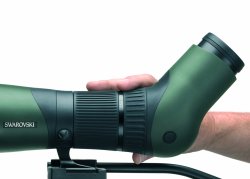 Another smart feature on the Swarovski ATX/STX system is the new position of the zoom ring, which is now located directly behind the focusing ring, makes it easier to handle. It means that the user can zoom and focus with one hand, while steering the spotting scopes direction with the other.
This completely new ergonomic design offers a crucial benefit for digiscopers in particular. They can now use the camera quickly, easily and accurately with one hand, while the other concentrates on zoom and focus.
Plus, since size and weight is the name of the game for all those who like to travel or spend long days in the field, the ATX/STX series means that bulky spotting scopes that are difficult to pack and heavy to carry are a thing of the past.
The modular design enables the user to store the objective and eyepiece modules separately and the smaller dimensions also allows for easier and safe storage of individual modules in one's luggage.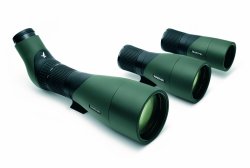 Two specific interfaces are also available to adapt the Swarovski ATX/STX to the needs of digiscopers: the DCB-II swing adapter, simple and spontaneous, fits mostly any camera and is distinctive in terms of easy handling and slick design, while the newly-designed TR-II telescope rail ensures high stability thanks to two support points, quick-release system for rapid adjustment, full access to focusing ring and long adjustment track for optimum stability, regardless of the camera used.
Anyone looking for equipment of proven quality right from the start will be delighted by the telescopes in the ATX/STX system. Providing unbeatable value for money, they offer all the features that you would look for in a lightweight, reliable spotting scope.
---
For further information
Swarovski Optik KG
Swarovskistraβe 70
A-6067 Absam | Austria
Tel.: +43-(0)-5223 / 511-0
Fax: +43-(0)-5223 / 418 60