New for 2012, Nikon Sport Optics takes its flagship series of All Terrain Binocular (ATB) to a whole new level with the introduction of its highest specification MONARCH yet – the MONARCH 7 ATB.  Possessing all the latest optical innovations, the MONARCH 7 ATB provides users with flat, crisp views for a never-before-seen realistic experience.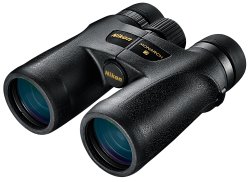 The MONARCH 7 ATB comes in two variations – 8×42 and 10×42 – with each model available in black finish.  At 5.6 inches tall and 5.1 inches wide, the MONARCH 7 ATB is strategically built with exceptional balance and fast-handling proportions.  It is also incredibly lightweight, with the 8x model weighing in at 22.9 oz. and the 10x model weighing 23.6 oz. At the heart of the MONARCH 7 ATB is an advanced optical system that seamlessly carries light using a proprietary lens, multiple prism coatings and Nikon Extra-low Dispersion (ED) glass.  The efficiency of the optical system reduces light loss, which results in extremely high light transmission.  It also creates an exceptionally wide field of view that surpasses any MONARCH binocular to date – and virtually every binocular in its class.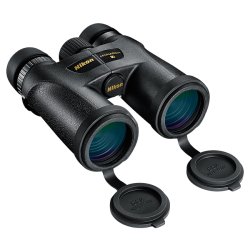 Users of the MONARCH 7 ATB are ensured a comfortable viewing experience with long eye relief and the inclusion of turn-and-slide rubber eyecups. The multi-click feature on the adjustable eyecups allows users to lock them in at the correct eye-point, which is especially useful for those who wear eyeglasses.
The roof prisms are phase-correction-coated for edge-to-edge resolution and brightness.   Dielectric multi-layered prism coatings ensure uniform light transmittance, resulting in brighter images and more natural colors.  For added protection, a scratch-resistant coating is applied to the outside of the objective lens and the eyepiece lens.
The MONARCH 7 ATB comes with flip-down lens caps, a Neoprene neck strap and convenient carry case.  It is Nitrogen filled and O-ring sealed to make it waterproof and fogproof.  
If it ever requires service or repair, Nikon's No-Fault Binocular Policy means they will repair or replace it – even if it was your fault – for just $10, plus shipping and handling.  The MSRP for the MONARCH 7 ATB is $479.95 for the 8×42 and $499.95 for the 10×42 model on the U.S. market.
---
For further information
Nikon Sport Optics
1300 Walt Whitman Road
Melville, NY

11747-3064 - U.S.A.
Tel.: +1-631-547-4200
Fax: +1-631-547-0306