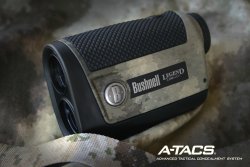 When it comes to ranging distance and ballistic capability, the Bushnell rangefinders are definitely the best on the market. Now shooters and sportsmen will be able to afford the best in rangefinding even in the new, groundbreaking ATACS camo finish!

Bushnell's Legend 1200 ARC laser rangefinder packs a ton of power into a handy, easy-to-use package. The Legend 1200 ARC ‒ which comes in a compact vertical body ‒ offers instant distance readings of up to 1,200 yards. As a result, you can easily identify game from across the prairie or through a dense forest. The rangefinder also offers both Bow and Rifle modes. In Bow mode, the rangefinder will eliminate traditional bow guesswork by providing the true horizontal distance to the target from 5 to 99 yards. In Rifle mode, the Legend 1200 ARC gives you bullet drop/holdover data in inches from 100 to 800 yards, in effect telling you where to hold the scope. It's like having two different rangefinders in one.
That's just the beginning, as the Legend 1200 ARC also offers Angle Range Compensation (ARC). 
ARC accounts for the terrain angle when calculating distance, so you know precisely how to adjust your shot when facing extreme uphill or downhill angles. Geared for close-range use, the BullsEye mode acquires the distances of small targets and game without inadvertently measuring background target distances. When more than one object is acquired, the Legend 1200 Arc's LCD display shows the closer of the two objects. The unit also offers a Brush mode, which ignores brush, boulders, and tree branches in the foreground, and a Scan mode that surveys the course while continuously update the distance between you and your target.
And weather is never an issue thanks to the Legend 1200 ARC's fully waterproof construction and RainGuard HD anti-fog technology. The RainGuard HD coating breaks up moisture even faster and more effectively than the original RainGuard formula, and adds a slicker surface to help clear elements on the lens easier and faster. Additional details include a built-in digital inclinometer that measures angles from -90 to 90 degrees within 1 degree of accuracy; a pocket-sized ergonomic design with a textured rubber grip; and such accessories as a carrying case, battery, and neck strap.
With precision and sensitivity unrivaled, the Bushnell Élite Spotter delivers accurate readings from 5 to 1,600 yards. Angle Range Compensation (ARC) Bow Mode delivers the "shoots-like" horizontal distance from 5-99 yards. In Rifle Mode, you get bullet-drop and holdover information, customizable for the exact zeroed range of your rifle thanks to Variable Sight-In (VSI)™ distance technology. With the rangefinder's technology, its super-premium, fully multi-coated optics, no laser rangefinder monocular delivers a more stunning view. The housing is 100% waterproof and the lenses feature our patented RainGuard® HD anti-fog coating.
Bushnell's "Élite Spotter" rangefinder is the cream of the crop, the pinnacle of laser rangefinders for hunters and marksmen demanding absolute precision, giving you tremendous capability with an impressive feature set. A 100% waterproof design, with fully multi coated optics, you will be a force to reckon with on your hunting grounds.
---
For further information
Bushnell Outdoor Products, Inc.
9200 Cody
Overland Park, KS 
66214 - U.S.A.
Tel.: +1-800-423-3537
Fax: +1-913-752-3550