Some interesting proposals from Smith & Wesson Performance Center with the updated revolver models 686 and 686 Plus chambered in .357/.38 Special +P. As claimed on Smith & Wesson's website, the "Performance Center offers sophisticated shooters limited run, uniquely designed, and special-featured firearms".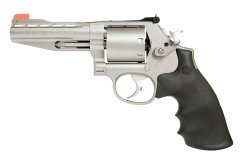 The new Performance Center 686 and 686 Plus wheelguns are indeed true to this claim, offering design details and extra attention not found in stock production models. Among the most striking, the vented and ribbed barrel and the unfluted cylinder. But the more you look at them, the more unique features you capture, like the chromed trigger with trigger stop and the chromed custom teardrop hammer, the speed release thumbpiece, the interchangeable orange front sight and the  adjustable rear sight. 

Smith & Wesson 686 and 686 Plus: differences
The main difference between the 686 and 686 Plus models is the cylinder capacity, since the 686 Plus is a seven-shot – the cylinder is cut to accept moon clips - and the 686 a more traditional six-shot. Barrel lengths are different too, with a  5"/127 mm barrel for the Plus version and a 4"/102 mm for the other one.
Both revolvers are entirely made of stainless steel (frame, slide, barrel and cylinder). Grips are synthetic. Weight is 37.9 oz /1,074.4 g for the 686 and 38.4 oz /1,088.6 g for the 686 Plus.
These single/double action L-frame revolvers are designed for home Protection, law enforcement & military, but can also be used out-of-the-box for competition shooting with good results, since they feature a Performance Center tuned action.
As for the price, the tag is the same for the 686 and 686 Plus: 966.00 USD, or around 832 euro (taxes excluded).