Sergio Consoli is a master Italian knifemaker who, after a career as a mechanic designer, decided to dedicate himself to the construction of high level artisan knives, an activity that he has been successfully carrying out for 17 years. Thanks to his training and perfect knowledge of a mechanical piece processing stages, Sergio quickly get noticed and already in 2007, after only four years of activity, he became a Master of the Italian Knifemakers Guild.
Sergio is no stranger to collaboration with Maserin, for whom he has designed numerous sporting models and also the Gentleman, a beautiful table folding knife for demanding gourmets. There is no point in changing a winning team, so here comes the model 405 Solar, a folding knife with slender and elegant lines, in pure Consoli's style.

Maserin Solar, features and details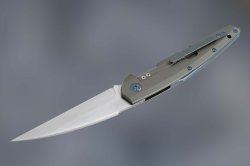 The Maserin Solar is a frame lock folding knife. The laser-cut D2 stainless steel blade with satin finish is 4.13"/105 mm long and 0.137"/3.5 mm thick. It has a Wharncliffe profile, that is, it features a straight edge and a curved back that gradually gets narrower towards the tip. This is an interesting type of blade that gives the knife the ability to make very precise point cuts. The blade is tempered to a hardness of 58/61 HRC and thanks to the lack of pegs or slots for one-handed opening, it has an extremely clean appearance, dominated by the contrast between the straight edge and the soft curve of the back.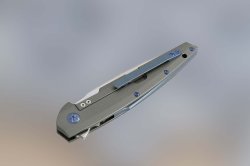 A retractable flipper allows a lightning-fast opening and once opened disappears inside the handle, which is made of CNC-machined titanium, anodized in a beautiful shade of gray. Particularly pleasing is the knurling around the handle perimeter, reminiscent of a coin edge pattern, and the contrasting color of the screws, which are also made entirely of titanium. Even the clip is made of titanium. It is not reversible, and allows the carrying of the knife in the pocket with the tip upward. The Maserin 405 Solar measures a total of 9.25"/235 millimeters once opened, weighing 4.58 oz/130 grams.
With this interesting folding knife Maserin demonstrates that the trend of collaborations between master knifemakers and companies is far from over, on the contrary it is an almost inexhaustible source of ideas. You just need the ability to transform ideas into products. The reatail price of the 405 Solar is 248 euros.
Maserin 405 Solar specs and price
| | |
| --- | --- |
| Manufacturer:  | Coltellerie Maserin – Italy  |
| Model:  | 405 Solar |
| Type: | Everyday carry folding knife |
| Opening: | Flipper |
| Overall Length: | 9.25"/235 mm |
| Blade: | CPM-D2 steel |
| Blade Length:  | 4.13"/105 mm |
| Blade Length:  | 4.13"/105 mm |
| Blade Thickness:  | 0.137"/3.5 mm |
| Blade finish:  | Satin blade, anodized handle |
| Handle: | Titanium |
| Price:  | 248 euro (price may vary in your country) |
---
Find all the news from SHOT Show 2021 on all4shooters/all4hunters.