Technical tests are one thing and hunting experience another. That's why we tried to combine both views on this really outstanding product in this article. Few things can demonstrate the quality and reliability of a riflescope better than taking it to one of the harshest hunting environment and using it with success. That's exactly what Swarovski Optik did with their dS 5-25x52 P model, a real revolution in the field of optics . Introduced in 2017 it's able to correct the point of aim and displays ballistic data in the lens. But more on this later.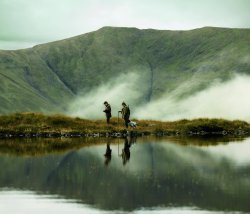 Let's first introduce the Isle of Mull off the west coast of Scotland , the "ultimate challenge for hunters": it's here that Swarovski tested its product. With the experienced Scottish hunter Donald Bisset, Head Stalker at the Benmore Estate on the isle itself, we can learn why Scotland can be so hard for hunters – but also so rewarding thanks to a combination of the traditions and the location.
"Scotland is very challenging for its hunting because of weather conditions, along with the ever-changing landscape throughout the year. All four seasons can arrive in five minutes while out hunting",  Bisset explains.  "Both visually stunning in their own way but also physically challenging for the hunter, adding to the sense of achievement on a successful hunt. Hunting in Scotland can be a real challenge: the weather, the topography, your level of physical and mental fitness – and perhaps even the language." "The image of a highland estate stalker dressed in full tweeds and on some estates the use of a Garron to bring the deer in is something that makes hunting in Scotland special," he adds. "The location is one of our best assets. We have dramatic, rugged, and wild hills and glens."

In Scotland and on the Isle of Mull in particular, you can hunt red, roe, and fallow deer as well as some other species, together with red grouse and other game birds. The best times of year for hunting red deer are from the end of September to the end of the stag season in late October, and winter for hind stalking. 

An emotional video gives you a better idea of how hunting on the Isle of Mull feels like: 
This video has been hidden because of an external service (YouTube) that could potentially collect personal data.Allow video services for the duration of the visitAllow video servicesStop allowing video services
Technical info about the Swarovski Optik dS 5-25x52 P, state-of-art riflescope
Yet, hunting in such a fascinating but difficult environment doesn't allow for improvisation: you need not only fitness and hunting skills, but also the best equipment. Riflescopes like the Swarovski Optik dS 5-25x52 P come into play here. We at all4hunters.com already fully reviewed it here . That's the promised technical test part.
To summarize the basic idea of this innovative riflescope, we can simply say that a laser rangefinder, a ballistic computer and a riflescope with automatic aiming correction are all wrapped up into one piece of gear. The smart technology in the dS riflescope automatically displays all relevant factors for the hunter like the correct aiming point, taking into account the distance, air pressure, temperature, and angle via a high-resolution head-up display. The biggest advantage for the hunter: No manual adjustment is required.
The aiming point is calculated on the basis of the individual ballistic data for the firearm-ammunition combination. The data are input via the dS Configurator app and the calculated ballistic curve is transferred directly to the dS via Bluetooth.

With such a state-of-art riflescope from Swarovski Optik, for your next hunting trip to Scotland you'll only need a good pair of walking boots – and, of course, good waterproof clothing: Scottish climate tends to be quite rainy in any season…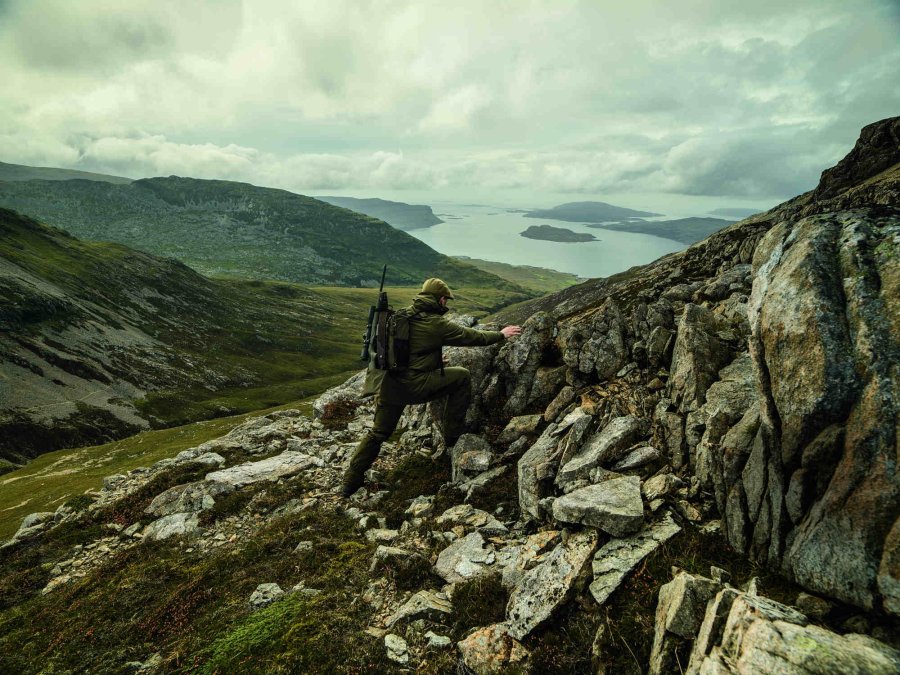 Swarovski Optik dS 5-25×52 P riflescope: technical data 
| | |
| --- | --- |
| Model: | dS 5-25x52 P  |
| Magnification: | 5-25 x  |
| Objective lens diameter: | 48-52 mm  |
| Exit pupil: | 9,6-2,1 mm  |
| Eye relief: | 95 mm  |
| Field of view (ft/100 yds / m/100 m): | 21.9-4.5 / 7.3-1.5  |
| Dioptric compensation: | -3 to +2 dpt  |
| Light transmission: | 83 % |
| Twilight factor (according to ISO 14132-1):  | 14,1 - 36,0  |
| Impact point correction (in/100 yds / mm/100 m): | 0.25/7   |
| Max. elevation/windage adjustment range (in/100 yds / m/100 m): | 43/25 / 1.2/0.7 |
| Parallax compensation: | 50 m to ∞  |
| Length: | 15.87" / 403 mm  |
| Weight: | 38.4 oz / 1,090 g  |
| Central tube diameter: | 40 mm  |
| Functional temperature: | -10 °C to +55 °C  |
| Water resistance: | 13 ft / 4 m water depth  |
| Brightness levels: | 64  |
| Additional program: | dS configurator app  |
| Price (RRP, including sales tax) | from 4.200 euro |
Sales price may vary in your country due to different local prices and sales taxes.